A New Chapter in the Leviathan Chronicles Saga

Set shortly after the events of the award-winning podcast The Leviathan Chronicles, this spinoff series continues the adventures of its two youngest characters, Lisette Mainsabiles and Paul Kim (aka Cluracan) as they use their unique skills to start a business, navigate young love, and lovingly care for a cybernetic rat.
Having been raised by an immortal thief, Lisette's experience as a cat burglar makes her confident she can handle any physical threat the pair might face. But as a computational savant and former underground hacker, Cluracan knows that analytical thinking can be better than acting impulsively. Sharing a misfit love for each other, they leave behind their lives in the U.S. to start a fledgling cybersecurity agency in Paris, France.
After converting a bakery van into their mobile hi-tech headquarters, Lisette and Cluaracan explore Paris by calling upon old acquaintances to help them find work for their new agency, But during a professional 'audition', Lisette and Cluracan are double-crossed, but manage to escape with a priceless research asset that makes them a target of a powerful international conglomerate, VeyTech Pharmaceutical. As they try to decode the mystery in their possession, they have to stay alive as they are ruthlessly hunted by an assassin with a metal arm while figuring out who they can really trust to help them escape France.
Will Lisette and Cluracan end up as unfortunate pawns in a dangerous conspiracy or will they be able to turn the tables on their foes and win back their freedom?!
About THE LEVIATHAN CHRONICLES
The Leviathan Chronicles is a revolutionary science fiction audio drama podcast featuring the voices of over 60 actors, professional sound effects and an original music soundtrack. Think of it as a blockbuster movie for your ears! There are 25 episodes in Season 1, and 13 episodes in Season 2 as well as several Special Edition Episodes – all available for FREE. You can download each episode here on the website or on iTunes. You can listen to episodes on your iPod, your computer, your car or wherever!
The story is centered around a hidden city called Leviathan that lies deep within the dark trenches of the Pacific Ocean. The city is home to a community of immortals that sought to create a utopia over 1,000 years ago. For a millennia, they lived in peace and secrecy, gently influencing world events to aid the advancement of mankind. But a terrible secret has been kept deep within the catacombs of Leviathan that threatens the existence of the immortals, and quite possibly the entire world.
One woman named Macallan Orsel, a young genetic scientist in New York, discovers she is descended from a group of immortals that rebelled against Leviathan and are now waging a civil war around the globe. As the immortal war spills into the realm of mortal man, Macallan realizes that she holds the key to stopping the battle and bringing peace to Leviathan. But a clandestine government agency called The Blackdoor Group is trying to exterminate the immortal population and has identified Macallan as their critical target.
The Leviathan Chronicles was launched on April 21, 2008, and is written & created by Christof Laputka, and directed by Nobi Nakanishi. More episodes are added on a periodic basis and the remainder of Season 2 is already in production. Over 3 million episodes have been downloaded by fans around the world. Download your first episode now and get started on an epic sci-fi adventure like you've never heard before.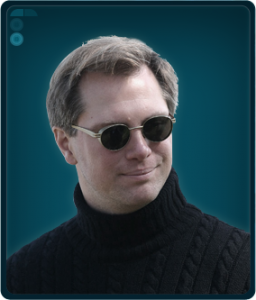 About CHRISTOF LAPUTKA
Christof Laputka was born and raised in New York City and loved every second of it. Despite sending most of his professional career on Wall Street, Laputka managed to find time to write short stories, essays, and generally let his imagination wander to the world's most hidden places and commune with the wildest characters on Earth.
Science fiction is his first love. Laputka grew up on classic sci-fi TV like Battlestar Galactica, Doctor Who, and Buck Rogers in the 25th Century. After embracing his utter geekdom, he discovered podcasting and thought it was the best way to deliver his stories of a dark future with heroic people.
Laputka is also an aspiring travel writer and has hop-scotched around the world trying to find sublime places for his characters to hide, villians to plot, and adventures to be had. Most of the places featured in The Leviathan Chronicles are based on real locations where the author spent time (with the exception of some of the secret bases). Laputka looks forward to spending the rest of his life exploring every inch of the globe and creating the coolest stories to blow your mind.
Laputka has blogged about his journey around the world on his website, The Rogue Report (http://theroguereport.com). He is also finishing a comedic novel called "The Underwear Incident", describing his crazy years on Wall Street.